SunLand Owners Assoc. Office - 135 Fairway Drive - Sequim, WA 98382
Ricki Bele, Office Mgr. - Phone: 360-683-7473
Hours: 9-3, Monday – Friday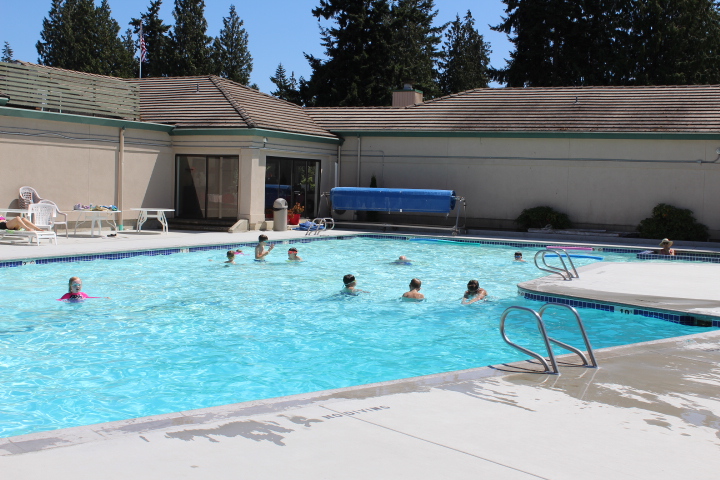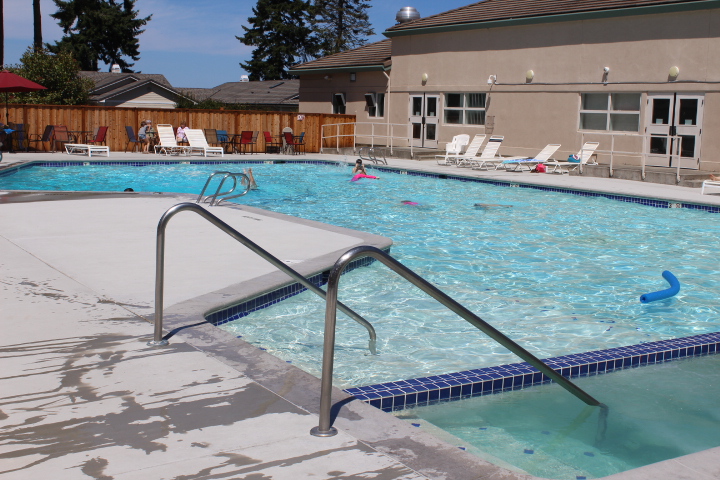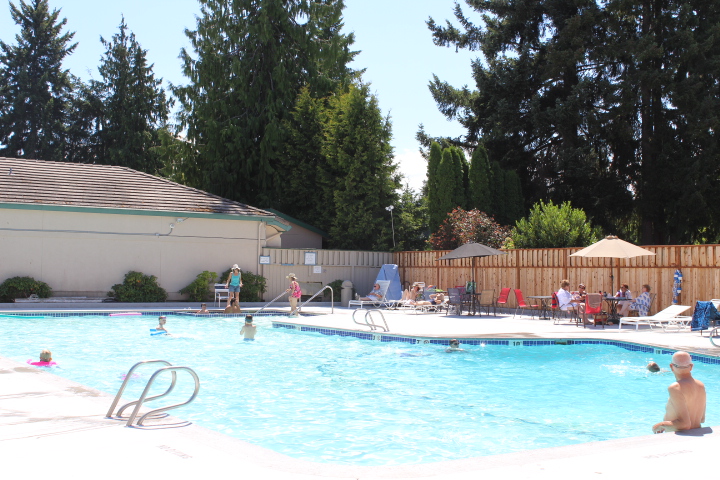 SunLand has a swimming pool for the use of SunLand residents and their guests. It is conveniently located adjacent to the SunLand Golf Clubhouse and Grill. It is heated to between 78-80 degrees and opens mid-June and closes mid-September. There is a therapy pool which is in the corner of the main pool and heated to a higher temperature.
Pool Hours
Sunday 10:00 A.M. TO 7:00 P.M.
Monday 9:00 A.M. to 7:00 P.M.
Tuesday through Saturday 9:00 A.M. to 8:00 P.M.
Monday, Wednesday & Friday -Exercise Class and/or lap swim 9 a.m.-12:00 p.m.
Tuesday & Thursday Exercise Class 7:00 – 7:45 P.M.
For members & guests
The SunLand Swimming Pool is open to paid-up members of the "SunLand Owners Association" and their guests, and renters of SunLand properties.  GUESTS must be accompanied by the homeowner to gain admittance.  There is a limit of four (4) guests per visit per family. MEMBERS ARE RESPONSIBLE FOR THEIR GUESTS.  All of above also apply to those SLG&CC members who are not SLOA members and have paid $100 per year pool fee.
A pool pass will be issued at the time of your first visit upon presentation of appropriate/picture I.D.
Pool Rules
NO LIFE GUARD ON DUTY.  – Swim at your own risk.
The gates MUST be kept closed.
All pool area users must sign in with the staff on duty, present annual pool pass and list children and guests' names present.
All swimmers must shower before using the pool or spa.
Persons 12 years of age or less must be accompanied by a responsible adult (18 or older) who must be at the pool deck at all times the child uses the facility. (Ref: Washington Administrative codes WAC 246-260-100 and WAC 246-260-131 and www.hum.wa.gov/fairhousing/standards.htm)
HOT TUB/SPA: The following rules are in compliance with regulations set by Washington Administrative Codes (WAC 246-260-131 and WAC 388-148-0170): No children under the age of six. Persons suffering from heart disease, diabetes, or high blood pressure or may be pregnant should consult a physician before using the hot tub or spa pool; hot tub/spa use for all persons must be limited to fifteen minutes at any one session.  Maximum capacity of hot tub/spa is six persons.
No running or diving in the pool area.
Pool toys have been purchased by SLOA for swimmers use while at the pool. (Noodles, toss rings, floating balls of several sizes.)  No outside toys permitted.
No water wings.
No lost and found.
No glass containers or objects. No alcoholic beverages during pool hours.
No audio equipment without headphone (as a courtesy to others); one CD player may be used for water aerobics.
No disposable diapers – ask pool attendant for "Swimmers."
The pool phone is for emergency use only.
Bathing caps or restricted hair gear is required for hair below the ear.
No street shoes or sandals allowed in pool or spa.
No pets allowed in pool area.
The pool staff has the authority and responsibility to ask anyone to leave because of undesirable conduct and/or violation of rules, and has been instructed to call 911 to eject the violator if he/she refuses to leave.  Deliberate pool rule violations will be referred to SLOA'S Communications and Grievance Committee for a hearing and for recommendation to the full SLOA Board, and could result in suspension from pool use for a specific period of time.  
Private pool parties after regular pool hours may be prearranged through SLOA'S administrative office. Rules of conduct apply.
Maximum Capacity:  45
Revised 6/10/2016
Pool Schedule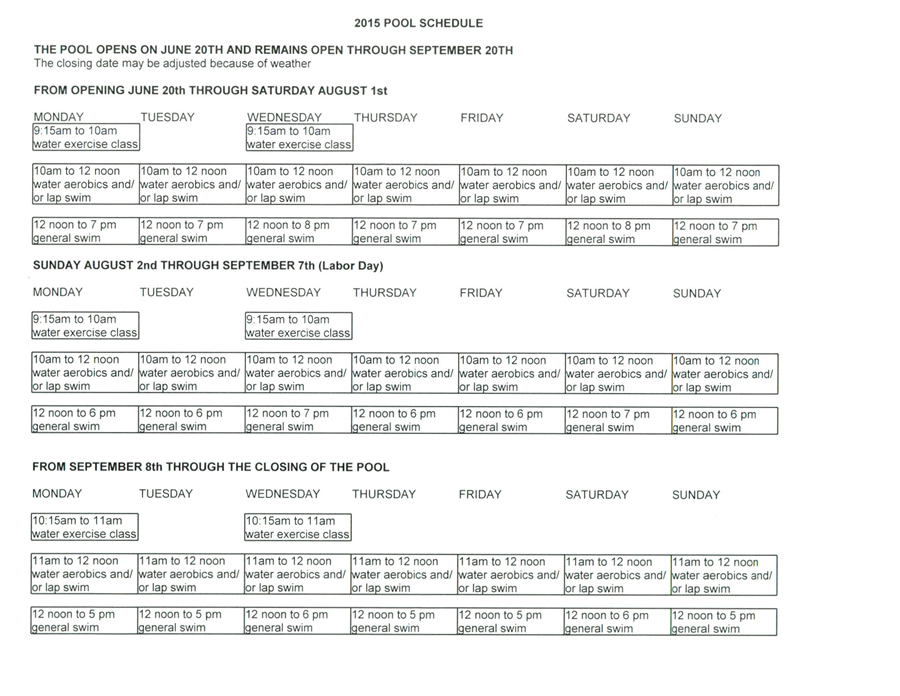 Our mild temperatures of SunLand allow play almost year round on two tennis courts plus a pickleball court. A practice board was constructed in 2003 and is used for tennis practice and also by some residents for general exercise. The practice board is located inside the pickleball court.
All Sunland residents, their families, and guests are welcome and encouraged to join in play on our courts. The ability of players ranges from adequate ("hope it goes over the net") to excellent, including several resident professional tennis coaches. On almost any given day some great, fun tennis can be observed on the courts.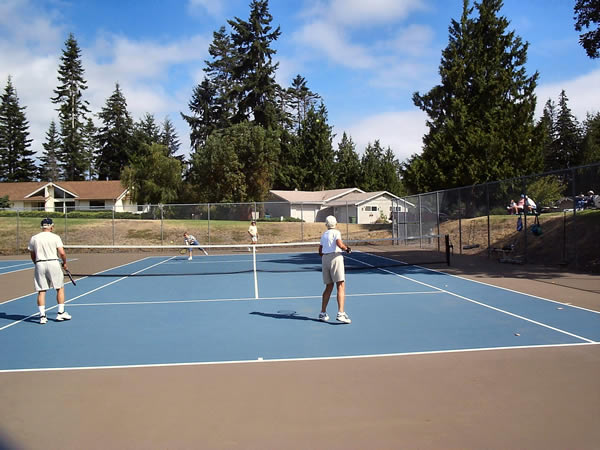 SUNLAND OWNERS ASSOCIATION RULES FOR USE OF THE TENNIS COURTS
SUNLAND'S courts are for TENNIS, PICKLEBALL, and BADMINTON only!
ELIGIBILITY
Owners of property in SUNLAND who have obtained tennis court keys may invite guests who are not SUNLAND property owners to play WITH THEM. This is not to exceed two guests per court in the morning and three guests per court at other times.
Resident SUNLAND homeowners who have obtained tennis court keys have the privilege of extending use of the courts to their house guests.  Such owners or guests may not reserve court time for such usage but may use the court on "as available" basis.  Renters of SUNLAND property are allowed to obtain tennis court keys if they have the written permission of the SUNLAND property owner.  Such renters may not reserve court time but may use the court on "as available" basis also.
Proper court procedure, etiquette and dress MUST be observed:
·        Please always wear court shoes that DO NOT mark the court surface.
·        Proper dress includes tennis shirts and shorts or warm-up suits at all times.
·        Please do not spill food or beverages on the court.
·        Please use the garbage can for all refuse you can not carry home.
·        Please cooperate and do not have duplicate keys made.
·        NO SKATEBOARDS, BICYCLES, SCOOTERS, ROLLERSKATING, OR ANY OTHER SPORT OR ACTIVITY that is not tennis, pickle ball, or badminton related.
RESERVATIONS FOR REGULARLY SCHEDULED WEEKLY PLAY
Reservations for Court #1 (by the main gate) are obtained by application to the Tennis Chairman and are for a 1 1/2 hour period. These times are applicable for the calendar year requested, January 1 to December 31, and should be given to the Tennis Chairman in writing before the 1st of the year. They may also be requested during the year for times not already reserved, and will be applicable for the balance of the year once they have been posted. Reserved times do not automatically rollover from one year to the next.  There are no weekly reservations for Court #2, which is open for play on an "as available" basis.
With everyone's cooperation, the courts can be maintained for our enjoyment with minimal expense.  Remember that SUNLAND'S courts are for TENNIS, PICKLEBALL, and BADMINTON only!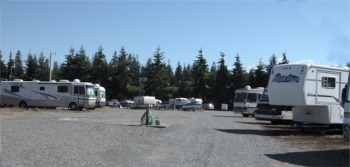 The SunLand Owners Association has available storage spaces for RV's, boats, trailers, and vehicles for a minimal expense. For example, a 35-foot RV space rents for approximately $100 per year. The facility has nearly 200 spaces varying in length from (10 – 35) feet. Approximately 100 of the spaces have access to an electrical outlet. Electricity is currently billed at the flat rate of $115 per year and is an additional charge to the space rental. There are no covered spaces. Rental spaces are available only to resident homeowners of SunLand.
There is an 8-foot chain-link fence surrounding the area with a locked gate. The area has substantial nighttime lighting and our security service makes nightly checks. (updated 3/14/2011)
Meeting Places
SunLand has two great places to hold meetings:
The Gathering Place
The Gathering Place at SunLand, located at 135 Fairway Drive, is provided by SLOA for members, to be used as an extension of your home if you want to have a party or play bridge, but don't have enough room at your house to entertain the number of friends you want to invite. It was originally provided as a rental for potential buyers or buyers that were waiting for their house to be ready to be occupied. Then, the second story was converted into SLOA offices. The main floor contains a complete kitchen equipped with dishes, pots and pans and linens, a bathroom, and a large room that is furnished , has a deck off of it, and will accommodate eleven card tables.
There is no charge for the use of the Gathering Place, just a refundable damage deposit. There is a small charge for the use of the linens.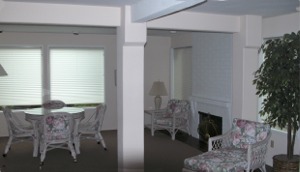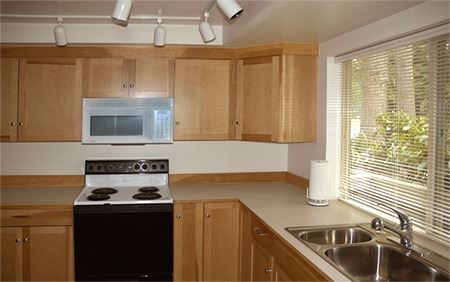 Sunny Shores Beach Club
Sunny Shores is a wonderful beachfront property jointly owned by SunLand and Sunny Shores' (homes off of Serpentine Road) homeowners. The property, located on the corner of Serpentine Road and Jamestown Beach Road, has a cabana with parking, a house (which is rented) and the beachfront across the road. The cabana, which has a fireplace, BBQ grills and restrooms, picnic tables and benches, is available for use to any homeowner of SunLand or Sunny Shores, for only a refundable damage deposit, and can be reserved at the SLOA office. The house rental pays for the property, and the Club is run by the Sunny Shores Board of Directors which consists of members from both Sunny Shores and SunLand.
It's a great place for picnics and parties. The large yard provides space for volleyball games and croquet plus the wonderful beach to walk or just sit and enjoy the beautiful view.